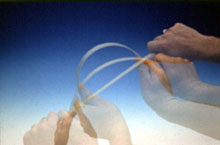 FULCRUM™ Thermoplastic Composites are produced from an engineering thermoplastic polyurethane (ETPU) matrix using the patented FULCRUM Technology process. FULCRUM Technology has no volatile organic compound (VOC) emissions and can produce solid and hollow profiles using pultrusion techniques. FULCRUM Composite materials typically have high strength and stiffness, greater toughness, and better damage tolerance than most thermoset materials. Additionally, FULCRUM Composites can be produced at higher speeds with greater design freedom than typical pultrusion processes. And, scrap material from FULCRUM Composites can be recycled and used in other thermoplastic processes.
Fulcrum™ Thermoplastic Composite Tube and Rod Products are produced with a proprietary rigid engineering thermoplastic polyurethane matrix. The combination of ductile thermoplastic matrix with high strength continuous fibers results in excellent strength and stiffness combined with superior toughness. The resin offers excellent resistance to a broad range of chemicals, including acids, bases and organic liquids.
Strength and Stiffness
Fiber loadings as high as 70% by weight (60% by volume) have been achieved, with mechanical properties at least equivalent to high performance thermoset composites.
read more >>
Toughness and Damage Tolerance
The ductile matrix and high elongation properties of composites produced with FULCRUM technology leads to tougher and more damage-resistant finished composites.
read more >>
Productivity
Line speeds up to 10 times faster than typically used for thermoset composites can be achieved, improving productivity and helping to reduce capital and infrastructure investment.
read more >>
Design Freedom
Welding, overmolding, over-extruding, co-extruding and thermoforming can all be accomplished whether on line or in subsequent operations.
read more >>
Environmentally Friendly
Because processing thermoplastic materials results in low to zero emissions and the composites you produce are recyclable, use of FULCRUM technology helps you stay environmentally responsible.
read more >>
Feature

Test Method

Strip (2)

Rod (3)

Glass Content (4)
-
76%
66%
Flexural Strength
ASTM D 790 (strip)
ASTM D 4476 (rod)
167,000 psi (1,150 MPa)
152,000 psi (1,050 MPa)
Notched Izod Impact
ASTM D 256
79 ft-lb/in (4,200 J/m)
77 ft-lb/in (4,100 J/m)
Tensile Strength
ASTM D 3039
145,000 psi (1,000 MPa)
-
Tensile Elongation
ASTM D 3039
2.2%
-
Compressive Strength
ASTM D 695
-
63,800 psi (440 MPa)
Compressive Elongation
ASTM D 695
-
1.5%

(1) Typical properties, not to be construed as specifications.
(2) 20x2 mm strip produced using FULCRUM thermoplastic composite technology containing uni-directional glass fibers and no off-axis reinforcements.
(3) 12mm Ø rod produced using FULCRUM thermoplastic composite technology containing uni-directional glass fibers and no off-axis reinforcements.
(4) Burn off.
Technical Literature